FISH Eats 4 Foot Shark In One Bite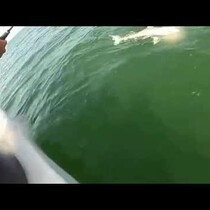 Posted August 21st, 2014 @ 6:06am
Fisherman off the coast of Florida shot this video of a prehistoric-looking fish eating a 4 foot shark in one bite.
They call these things The Nightmare of the Sea—an appropriately named Goliath grouper fish that can grow up to 800 pounds, live as long as 50 years and apparently just fought their way back from near extinction. You'll see how below....
Word is that they also enjoy stalking divers, so good luck with that.